Crouch Vale Medical Centre is approved as a 'designated site' (base) to deliver the Covid vaccines for all eligible South Woodham Ferrers and Dengie patients (the 2 areas making up our local 'Primary Care Network').
---
The Greenwood Surgery PPG members  have organised a group of committed volunteers who are able to help on a regular basis. They are doing a truly fantastic job and we couldn't run our clinics without their support.
---
We have provided 13, 215 FIRST doses and 6,008 SECOND doses.
---
***We are now able to offer vaccination to GREENWOOD SURGERY patients 16 years and older who are household contacts of shielding patients***
The definition includes individuals who expect to share living accommodation on most days and therefore for whom continuing close contact is unavoidable.
Those not eligible include:
— Members of 'bubbles' that do not live with an immunosuppressed person for the majority of the week
— Frequent visitors and other non-carers who might visit the house often but not for the majority of the week, including overnight stays
A form of proof of ID will be needed to confirm household status. Please click here to read what constitutes proof of ID.
---
We MUST prioritise vaccinating/providing second doses before we provide first doses. Therefore, at present, only if spares arise can we call eligible patients for their first doses.
A reminder that new JCVI guidance states those under 30 years should be advised to have only Pfizer for a FIRST dose.
Please click here for gov.uk leaflet re: Blood clots and vaccinations
---
Second dose Pfizer clinics:
27th April: 5.30pm – 9pm (for those who had first dose 12-14th February)
28th April: 1pm – 9pm (for those who had first dose 12-14th February)
5th – 7th May: 5pm – 9pm (for those who had first dose on 17- 18th February)
---
Please click here to read Oxford Vaccine patient leaflet BEFORE appointment
Please click here to read Pfizer Vaccine patient leaflet BEFORE attending appointment
---
Please note we will check the following safety questions with you:
You have not had Covid 19 Infection (as far as you're aware) in the last 4 weeks
You have not been part of research trial where you may have received a vaccine already
If you are on warfarin (blood thinner) what the last INR was
You have no sudden serious allergic reaction called anaphylaxis (either to a vaccine /unknown substance/to multiple substances)
You have not had another vaccination (e.g. for flu or shingles) in last 7 days
The practical advice is:
Please park at Sainsburys where possible and walk across
Come to main/back entrance of building not earlier than appointment time
On arrival, volunteers will be present to guide you
You do not need to bring anything with you
For Pfizer clinics expect to sit in a waiting area for 15 minutes after the vaccination to check you suffer no adverse reaction
For Astra Zeneca clinics you are advised not to drive for 15 minutes but can wait in your car before you leave.
---
Patients in lesser priority cohorts have been invited to book at a mass vaccination sites e.g. Tylers Ride. Please note we do not have any affiliation with other sites and therefore any queries for this site / their service must be directed to them. 
---
Patient feedback:
We just wanted to send a quick email to thank you, NHS staff and volunteers for the wonderful work you are doing regarding the Covid vaccination rollout. When we came this morning everyone was professional, friendly and courteous in what we are sure must be very difficult circumstances.
Please convey our thanks to everyone involved. You are all stars as far as we are concerned and we are truly grateful.
Regards
Mr and Mrs LB and TB
---
Other pictures: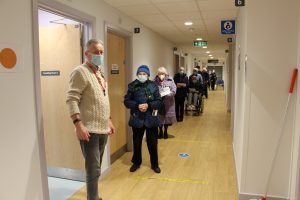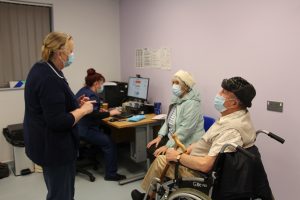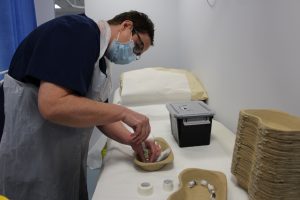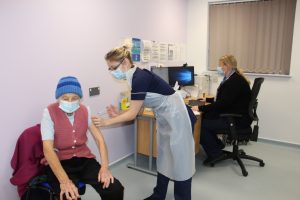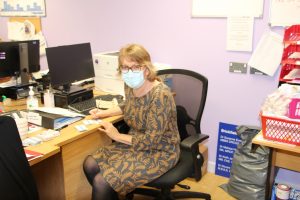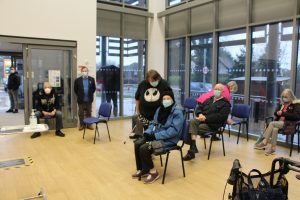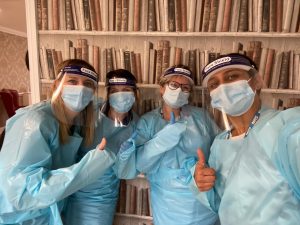 ---
See FAQ for updated information on the above:
https://eput.nhs.uk/news-events/coronavirus/coronavirus-vaccine/
See below for reminder of prioritisation groups for vaccine:
https://www.gov.uk/government/publications/covid-19-vaccination-care-home-and-healthcare-settings-posters/covid-19-vaccination-first-phase-priority-groups
Thank you for reading and staying updated with us.