Crouch Vale Medical Centre is approved as a 'designated site' to deliver Covid vaccines for patients living in South Woodham Ferrers and Dengie. (The two areas making up our local 'Primary Care Network' – click here for PCN website
We have provided a TOTAL of 35,476 Pfizer/Astra Zeneca vaccines
---
COVID PROGRAM
NEW** SPRING BOOSTER 2022
Guidance released today states from 21st March 2022 the following groups will be provided a Spring Booster:
— Aged 75 years and over – 6 months (182 days) after last dose
— Living in care home – between 3-6 months  (91 – 182 days) after last dose
— Immunosuppressed >12 years old – 6 months (182 days) after last dose
Clinics will be held at Crouch Vale Medical Centre on a monthly basis. When eligible, patients will be invited on the following dates:

Saturday 23rd April 2022 : 9am – 6pm
Tuesday 26th April 2022 : 1pm – 6pm
Thursday 19th May 2022 : 1pm – 6pm
Wednesday 29th June 2022 : 1pm – 3pm
Tuesday 19th July 2022 : 1pm – 2pm (CANCELLED-LOW DEMAND)
---
PRIMARY COURSE (1st/2nd/3rd/4th/booster)
Patients with low immune systems at the time of their 1st/2nd doses as per the  JCVI Green Book (click here) should be contacted for a 'Third Primary Dose' to be given 56 days after the second dose. These patients will be due a 'booster' or '4th dose' after a further 3 months.
To help manage the current Omicron variant those 18 years and over will be offered their Booster 3 months after their second dose.
Under 18 year olds should wait 12 weeks after having Covid Infection before having a Covid vaccination (rather than 4 weeks)
Alternatively, to make an appointment for a 1st/2nd/3rd/4th/Booster vaccine please call 119 or use the National Booking System and find your NHS number by using the links below
Access National Booking System       Click to find your NHS number
If you have difficulty using the telephone, e.g. hard of hearing, please make contact using email central.referral@nhs.net
---
There are NEW safety check lists and updated guidance found below.
We ask all patients to read the pre-screening check list on below pink link (paper copies available at entrance to Crouch Vale Medical Centre). IF any answers are 'Yes' please raise this at your appointment. 
Click here to read PRE-SCREENING CHECKLIST for BOOSTER
Please click here to read Pfizer Vaccine patient leaflet BEFORE attending appointment
---
From 17 May 2021, people in England who have been fully vaccinated against COVID-19 can demonstrate their vaccination status for international travel. A full course is currently two doses of the Moderna, AstraZeneca and Pfizer vaccine, or one dose of the Janssen single-dose vaccine. Vaccine status will be available through the NHS COVID Pass service from:
· the NHS App – see our online page for more information.
· the NHS website – click here
· 119 – by requesting a paper letter
You will need to register to use the online services, if you have not already. It may take more than a week for your identity to be checked and verified.
If you cannot access the online services, and you have had both doses of the vaccine, you can request a paper letter from the NHS by calling 119. Only call 119 if you are due to travel outside the UK in the near future and have had your second dose (or one dose of the Janssen single-dose vaccine) more than 5 working days ago. It may take up to 7 working days for the letter to arrive.
This practice is not able to provide you with a letter that shows your COVID-19 vaccination status. Please do not contact the practice about your COVID-19 vaccination status unless you have been advised to by the 119 service.
When you're planning your travel, you should check the latest information on demonstrating your COVID-19 status when travelling abroad on the gov.uk website. Make sure there is enough time to get proof of your COVID-19 vaccination status before you are due to travel.
---
The Greenwood Surgery PPG members  have organised a group of committed volunteers from across the PCN who have helped on a regular basis. They have done a truly fantastic job and we couldn't have run our clinics without their support.
The Chelmsford Mayor made a visit to thank a small group of volunteers for all their hard work and dedication so far. When we are in a safer climate a larger gathering of all volunteers will be organised.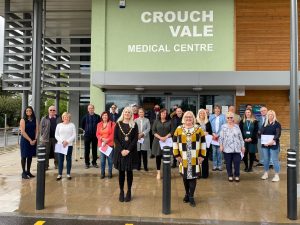 ---
Patient feedback:
We just wanted to send a quick email to thank you, NHS staff and volunteers for the wonderful work you are doing regarding the Covid vaccination rollout. When we came this morning everyone was professional, friendly and courteous in what we are sure must be very difficult circumstances.
Please convey our thanks to everyone involved. You are all stars as far as we are concerned and we are truly grateful.
Regards
Mr and Mrs LB and TB
---
Other pictures: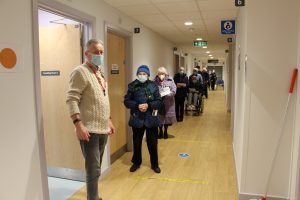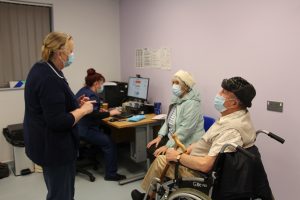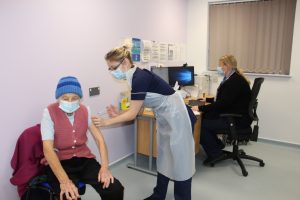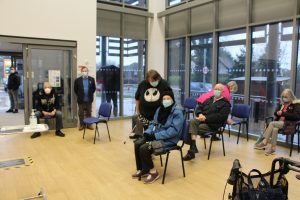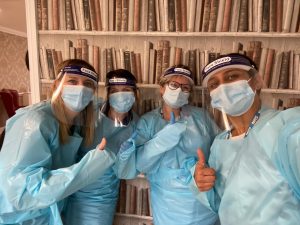 ---
See FAQ for updated information on the above:
https://eput.nhs.uk/news-events/coronavirus/coronavirus-vaccine/
See below for reminder of prioritisation groups for vaccine:
https://www.gov.uk/government/publications/covid-19-vaccination-care-home-and-healthcare-settings-posters/covid-19-vaccination-first-phase-priority-groups
Please see the following links for useful information BEFORE attending for vaccination
Mid-Essex CCG Covid Vaccine Patient Leaflets
Video answering frequently asked questions by Lead at UK Vaccine Taskforce
Thank you for reading and staying updated with us.