Crouch Vale Medical Centre is approved as a 'designated site' (base) to deliver the Covid vaccines for all eligible South Woodham Ferrers and Dengie patients (the 2 areas making up our local 'Primary Care Network').
Sian and myself are the named leads for coordinating the program across all 8 practices and Greenwood Surgery is the lead / host practice. We are rising to the challenges and continually developing the clinics to improve the service  ensuring we adhere to the strict protocols surrounding these precious and novel vaccines.
---
The Greenwood Surgery PPG members  have now organised a group of committed volunteers who are able to help on a regular basis. They are doing a truly fantastic job and we couldn't run our clinics without their support. We would also like to thank the patients who have provided the staff with edible treats which are very much enjoyed and help up to keep us going.
---
So far we have provided 7399 VACCINES.
We do not waste any vaccines and instead call ELIGIBLE patients from the cohorts below if we have any spare at the end of a clinic.
Our allocation of appointments are prioritised on the following cohorts in the order listed:
Care home residents and staff
Those aged 80 years and over AND health/social care workers
Those aged 75 years and over
Those aged 70 years and over
Those aged 69 – 65 years (in descending order)
---
The Pfizer clinic dates available:
Wednesday 17th February 2021:  8am – 6pm (Greenwood Surgery patients)
Thursday 18th February 2021: 8am – 6pm (Other PCN practices)
Friday 19th February 2021: 8am – 6pm (Other PCN practices)
Tuesday 23rd February 2021:  8am – 6pm (Other PCN practices)
Wednesday 24th February 2021:  8am – 6pm (Greenwood Surgery patients)
Thursday 25th February 2021: 8am – 6pm (Other PCN practices)
All practices are currently contacting 65 – 69 year old patients for all the clinics above.
We are aware NHS England have also sent letters out this weekend to this cohort of patients inviting them to attend mass vaccination centres. We do not mind where patients choose to go – the main thing is we get patients protected as soon as possible.
Greenwood Surgery are contacting patients by text where possible (calling those with no mobile on record) – please do reply informing if you have booked elsewhere or wish to book at Crouch Vale Medical Centre. If you wish to have at Crouch Vale Medical Centre a member of Greenwood will contact you to book you in to the above dates.
Please note we will check the following safety questions with you:
You have not had Covid 19 Infection (as far as you're aware) in the last 4 weeks
You have not been part of research trial where you may have received a vaccine already
If you are on warfarin (blood thinner) what the last INR was
You have no sudden serious allergic reaction called anaphylaxis (either to a vaccine /unknown substance/to multiple substances)
You have not had another vaccination (e.g. for flu or shingles) in last 7 days
The practical advice is:
Please park at Sainsburys where possible and walk across
Come to main entrance of building not earlier than appointment time
On arrival, volunteers will be present to guide you
You do not need to bring anything with you
For Pfizer clinics expect to sit in a waiting area for 15 minutes after the vaccination to check you suffer no adverse reaction
We will contact you in 11-12 weeks to book the second dose (we can not provide you a second dose date now as we are not notified of delivery dates until nearer the time)
---
Patient feedback:
We just wanted to send a quick email to thank you, NHS staff and volunteers for the wonderful work you are doing regarding the Covid vaccination rollout. When we came this morning everyone was professional, friendly and courteous in what we are sure must be very difficult circumstances.
Please convey our thanks to everyone involved. You are all stars as far as we are concerned and we are truly grateful.
Regards
Mr and Mrs LB and TB
---
I had my first coronavirus jab today and I just wanted to say a huge thank you to all the staff and volunteers. You're doing such an amazing job rolling the vaccines out and I can't thank you all enough.
You are all a credit to the NHS and our community.
Take care and stay safe,
M.W
---
An M&S hamper was provided by Greenwood Surgery patient J.D
'A little something to thank everyone for the care provided and especially to Dr Mistry and Nurse Eileen who came to provide my vaccine during such awful weather!'
---
It's lovely to see the relationships build between the Dengie and South Woodham Ferrers staff, patients and volunteers.
Many thanks to Dengie for the beautiful hamper below. Thank you also to Oak Class at St Nicholas School for the decorations- they brighten up our day!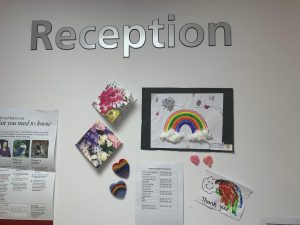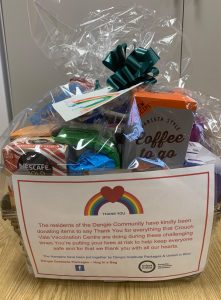 ---
Other pictures: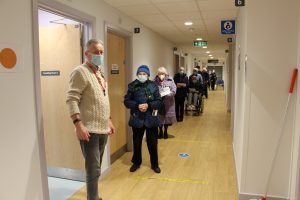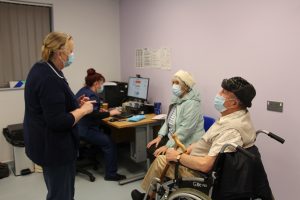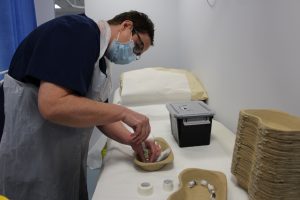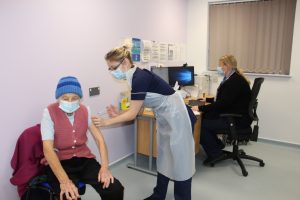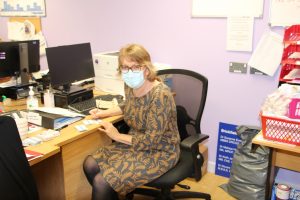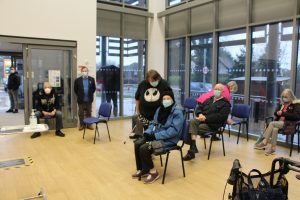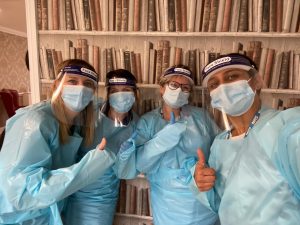 ---
See FAQ for updated information on the above:
https://eput.nhs.uk/news-events/coronavirus/coronavirus-vaccine/
'We are experiencing a high number of telephone calls with queries regarding the vaccine so please see the FAQ link above and continue to read this blog.  We will provide timeframes as cohorts become vaccinated. We WILL CALL PATIENTS to book you in. You will not be vaccinated without a booked appointment.
See below for reminder of prioritisation groups for vaccine:
https://www.gov.uk/government/publications/covid-19-vaccination-care-home-and-healthcare-settings-posters/covid-19-vaccination-first-phase-priority-groups
I'd like to end with a key message:
"All 3 Covid vaccines approved are extremely safe and effective at preventing people falling seriously ill and dying of Covid. Evidence is still emerging but so far we must assume it does NOT stop people from getting Covid  or passing it on. The need to carry on with 'hands, face, space' and minimising mixing MUST continue." – Dr Mistry
It's significant protection occurs 14 – 21 days after the first dose (hence the decision to delay the second dose to increase uptake). Longer immunity will be provided only after the second dose which will be booked in 1 1 – 12 weeks after the first.
For now, you must attend the same site and receive the same brand of vaccine.
Thank you for reading and staying updated with us.